Supriya from the blog Red Chillis was kind enough to let us feature this great recipe she found for Eggless Mango Cake. It is simple to make and tastes delicious, just look at those lovely pictures!
This is what she says about the recipe and how it she found it:
It used to be many moons ago that Bawarchi (an Indian website) was the information center for cooking needs, great recipe ideas and hundreds of recipe contributions. The design and layout of the site was simple, yet pleasing to the eye with no glaring images or advertisement, simple categories and it was very easy to look for recipes. The contributors would provide their email id's and request for user feedback. So it was in a way very early stage of food blogging.
As a new bride in Boston, with very limited knowledge in cooking I used to visit this site often and try out different recipes. There could have been many more recipe related websites but Bawarchi was huge amongst our friend circle. We used to forward each other the links of the recipes that came out good, discuss them over the phone and thus expand our culinary skills. (Not to forget the phone calls to mothers and MIL's back home!)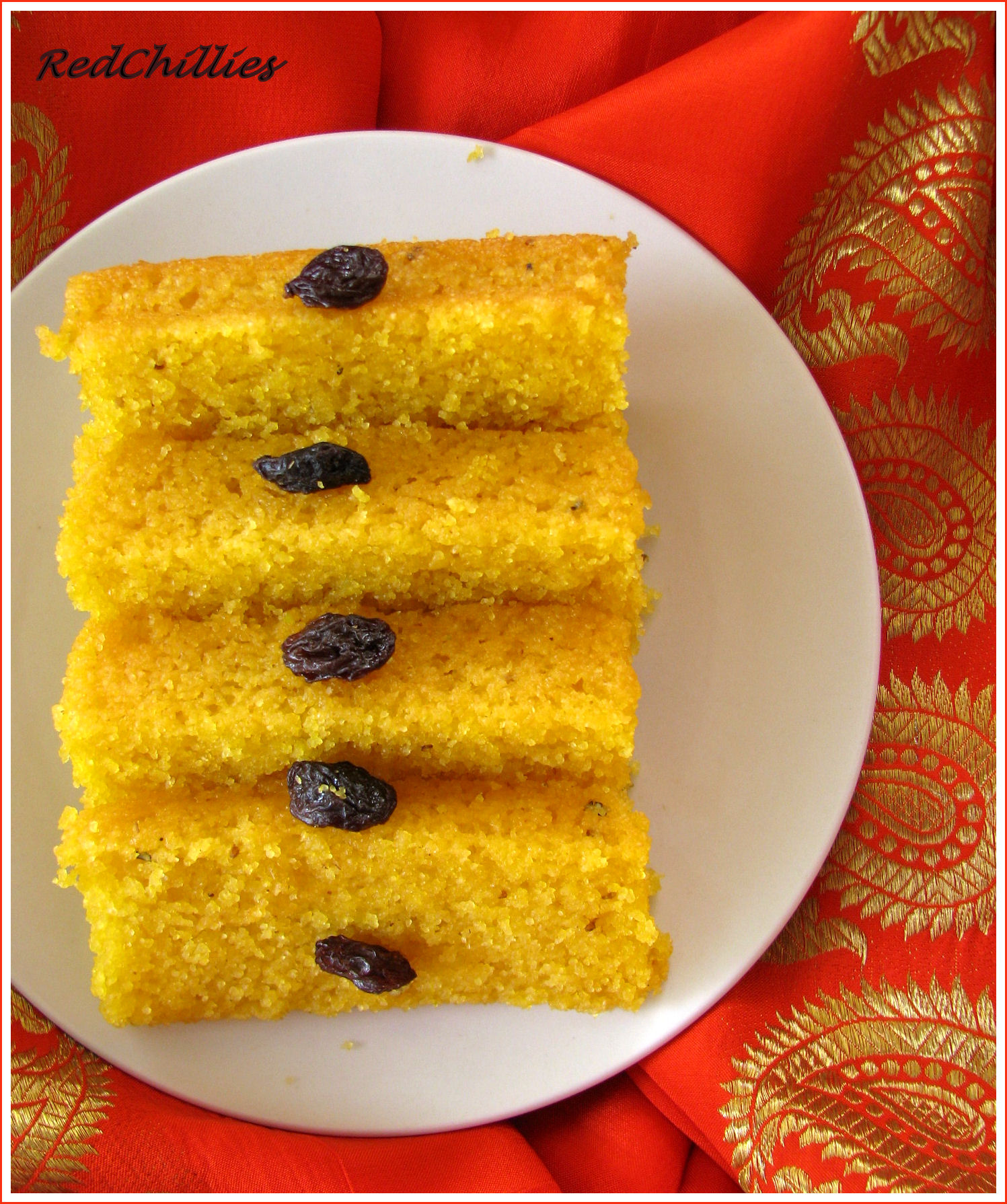 On one such escapade, I had found this easy, eggless recipe for Mango Cake. Bawarchi is now part of Sify and the recipe then moved here (Mango Cake). For a novice baker and cook I found this to be easy, effortless and but with delicious taste. The cake is soft and moist and the combination of mango pulp and cardamom is like a match made in heaven. The taste is more like Mango Suji Halwa/Mango Rava Kesari.
I have also tried this using banana instead of the mango with equally delicious results. I am pretty sure this combination will work with other fruits as well. As the author has suggested this cake can be cut like burfi (diamond shapes) and that helps in easy serving. Even though the original recipe does not call for nuts, chopped walnuts and raisins enhance the taste of this cake.
Ingredients:
1 cup of Semolina/Rava/Sooji ( I used the fine variety)
1 cup Mango pulp ( I used ready made Kesar Mango pulp for this/ even fresh mango pulp should be fine)
1/2 cup Butter (melted)
1/2 cup Sugar
1 teaspoon Baking powder
½ tsp ground cardamom(elaichi)
¼ cup chopped walnuts, raisins(optional)
Some notes:
Please make sure that the mango pulp is thick and light yellow in color. I have seen that some brands of mango pulp are not thick and do not have good flavor and smell.
If you use a pulp that is not thick and if you find that the cake batter is not thick then let is stand aside for 20 minutes, until the mango pulp is absorbed by the semolina.
I found that if you place not-so-thick batter directly in the oven it takes a longer time to bake and then browns the cake. It does not get that beautiful, rich yellow color.
Place it in the middle rack while baking.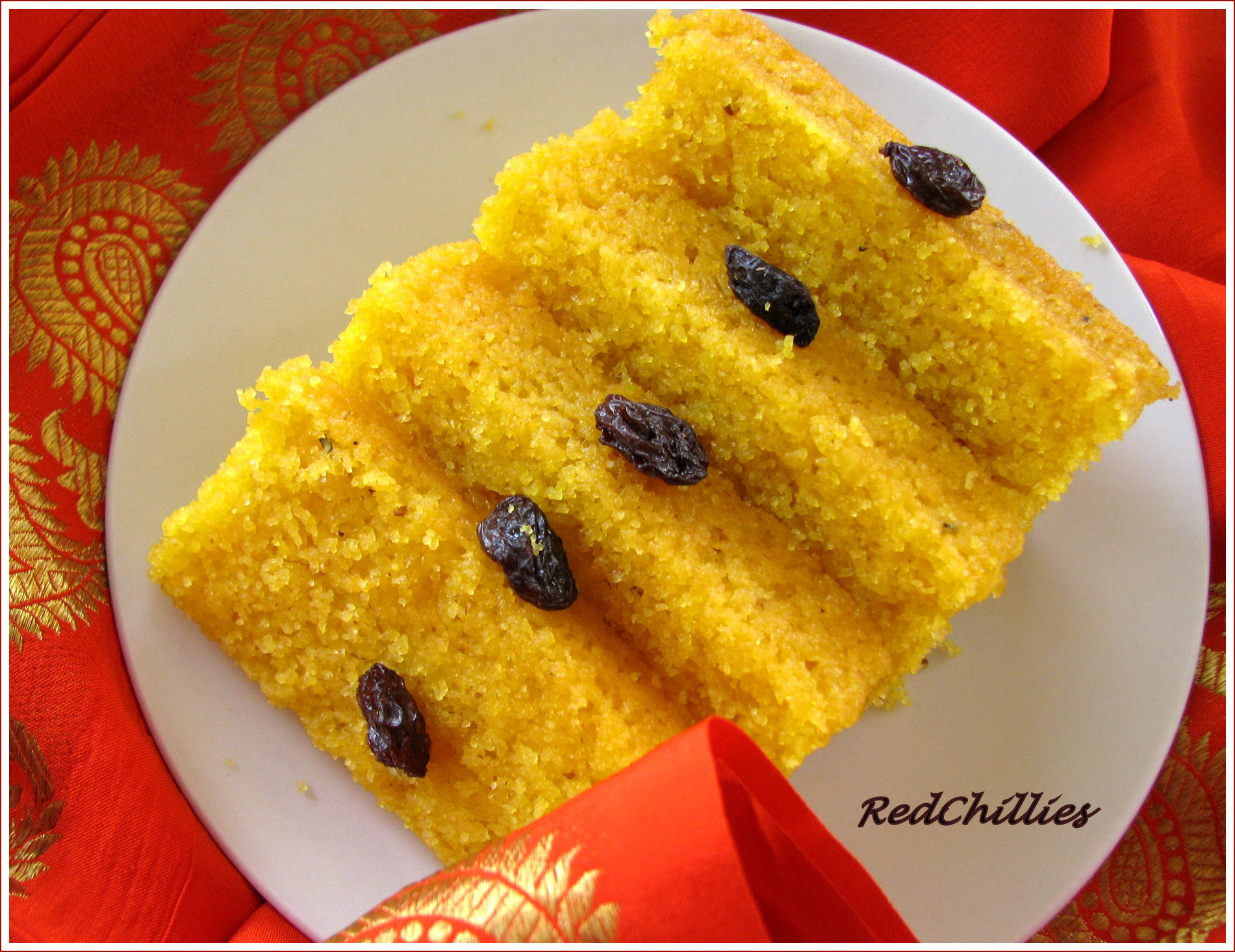 Method
Note: There is no need to roast the rava/sooji.
Pre-heat the oven to 375 degrees.
Mix the Sooji(Rava) with sugar, cardamom, nuts(optional) and baking powder.
Next add melted butter and mix well. Finally add the mango pulp and mix again. Let it sit for 10 minutes.
Place in the oven and bake for 30-35 minutes. Be careful and keep a close watch after 25 minutes.
Check with a fork to see if properly baked. If the knife comes out clean then remove immediately. If it is kept for a longer time, the cake will become hard especially on the top.
Allow to cool completely and then cut and serve.